About Us
Before opening his shop, Larry spent years on the rodeo circuit learning what did and didn't work. When it came time to settle down, he put his experience to the test and devoted himself to creating one-of-a-kind, handmade equipment that focused on quality above all else. Read below to learn a little more about the journey to Larry's Saddle Shop.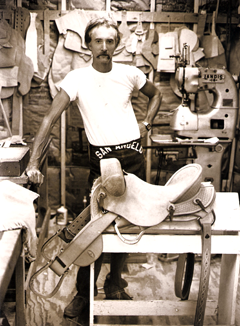 The following article exerpt appeared in the Times Record News (Vernon Record), Vernon, Texas:
Back to the Saddle - Joyce Ann Ashley

Larry Lancaster of Vernon makes saddles, and each one is an original.
"I've been working with leather since high school," Lancaster says. [...] He found other people liked what he made, and he was able to sell enough to pay his entry fees for another interest - rodeoing.
[...] Lancaster rodeoed for about 12 years, 10 of which were on the professional circuit, crisscrossing the United States from California to Florida, Chicago to Beaumont. [...] The miles and injuries began to take its toil. Meanwhile, Lancaster never gave up working with leather. It was something to do between rodeos, a trade to fall back on.
[...] "Each saddle I build is an original," Lancaster notes. "There are no others just like it. No two saddles go together the same and no two saddles are going to look exactly the same." Lancaster says a good saddle will last a lifetime if taken care of properly.
As to the future of his craft, Lancaster says he believes saddle makers will always be needed. Despite the modern technology that allows cowboys to herd cattle with helicopters, a cowboy will always need a horse, he maintains, and as long as there are horses, there will be saddles. Many of the bearing the Lancaster logo, he hopes.
The following article exerpt appeared in Rodeo News:
Art of Rodeo - Siri Stevens

Larry Lancaster grew up in Shreveport, Louisiana. Born in 1952, he didn't rodeo until his senior year in high school, and he started by fighting bulls. "My dad was a pilot, so nobody in my family rodeoed and I started fighting bulls because it looked like fun." He fought bulls for a year and then started riding them as well as bareback horses. [...] "I quit because it was getting hard to get out of bed." Larry found a new profession he could do and still be a part of the world of rodeo.
[...]"I'll ship close to 900 [cinches] every year, and I tie every one of them." His chinches found their way on every kind of saddle, including bronc cinches. "I'll bet I've had every one of them at NRF," he said. "Cinches on a saddle bronc horse are O-rings - D-rings don't work. The book says the center has to be 8 inches wide. You've got to have the center beefed up. If it's not, it gets soft - it doesn't pull right." He thinks there may be three others that tie saddle bronc cinches.
[...] He travels to about five shows a year, but prefers his shop to the road. "I enjoy meeting new people but I like getting up in the morning and walking out to the shop." [...] His goals for the future are simple. "I'm going to build more cinches and saddles."